14 June 2012, Auditorium de la Municipalidad Provincial de Puno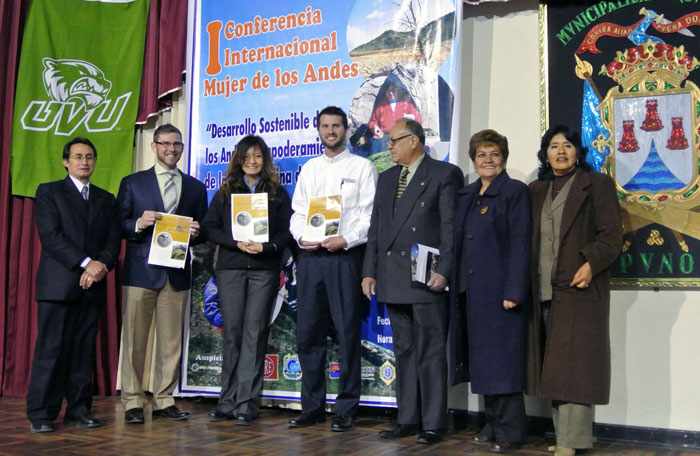 Delegación de Utah Valley University y Dirigentes Locales
Antecedentes de la Conferencia
Muchas de las regiones involucradas o que deberían participar en conferencias como la de Women of the Mountains, que se realizo en 2011, tienen poco o ningún acceso a fondos necesarios para enviar delegados para asistir estas conferencias. Por ese motive la Utah Valley University, junto con el Mountain Partnership, se han embarcado a organizar una serie de mini-conferencias con el objetivo de dar una voz a estas regiones.
Estas conferencias son más localizadas a regiones remotas que son afectadas directamente por, pero no exclusivamente, por el Cambio Climático, Abuso de Recursos, y la Explotación de la Población. Estas conferencias proporciona una plataforma para la gente de estas regiones para compartir y difundir su información. Nosotros proporcionaremos una audiencia global a través de la pagina web, Women of the Mountains.
Objetivos de la 3ª Conferencia Internacional Mujeres de las Montañas / 1ra Conferencía International Mujer de los Andes
Para discutir asuntos urgentes relativos a las comunidades de montaña en las regiones andinas de Perú y los países vecinos;

Para continuar con las tradiciones de dos conferencias internacionales anteriores, organizados por UVU y IUK en Orem, Utah en 2007 y 2011;

Para poner en práctica una serie de decisiones de la Declaración de Orem sobre las mujeres de las montañas, el documento fue finalizo en la primera conferencia en 2007 que tiene por objeto, en particular, en:

El fortalecimiento de alianzas regionales para promover temas de género;

El fomento de organizaciones a unirse al Mountain Partnership y el Mountain Forum; 

Alternando sedes entre Utah y los demás países montañosos de todo el mundo, con el objetivo de identificar y resolver los problemas de las mujeres de las montañas en determinadas regiones del mundo.
---
---
Documentos de la Conferencia