UVU Rotaractors participate at induction of Orem Rotary new leadership.
The Orem Rotary Club held a lunch meeting on June 30th, 2021 in order to induct the new president and officers for the new Rotary year. It was held at Squire and Company, an Utah accounting firm that prides itself on holding to strong values of integrity and client success. 
                                                         Dean Robertson, Orem Rotary President (2020-2021) greets Rotarians and Rotaractors  
 It was a combined meeting for both the Orem Rotary and the Rotaracts - the UVU student included within the Rotary club. While only a few Rotaractors were able to attend, the Rotary Club was very accommodating and welcoming. The meeting began with the reading of the "4 Way Test", which was new to me, as well as their theme "Service Above Self." I found these mottos in line with my own personal beliefs. These words were really powerful to hear as we recited them together. There was an energy and conviction in each voice. It made me proud to be a part of the Rotaractors.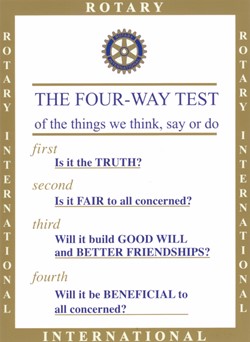 The Rotary Four-Way Test
Lynn Hilstead, the new president was sworn in and began to tell the story about the motto "defend the brand." He talked about growing up on a ranch in Starvalley, Utah. In the spring, cattle were dehorned and branded to ensure that each herd could be told apart when they were all grazing in the mountains. The ranchers would protect and defend their brand as well as live up to its name. He related this to the Rotary "brand" and encouraged us to be proud of the standards and goals of the club.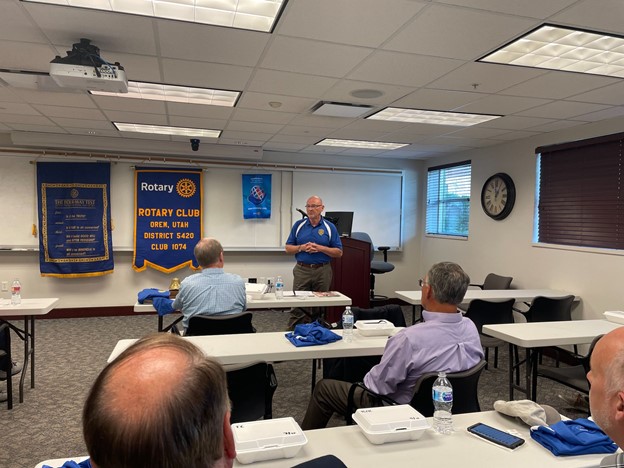 Lynn Hilstead, Orem Rotary president 2021-2022 addresses the audience  
He told us to live our lives in service, within and outside of club activities. To solidify this belief, every Rotary and Rotaract member was given a nice, polo shirt with the logo sewn in the left pocket. The Rotary members were given blue, and, in tribute to our university colors, the Rotaractors were given green. We were to wear it with honor as we defended our brand.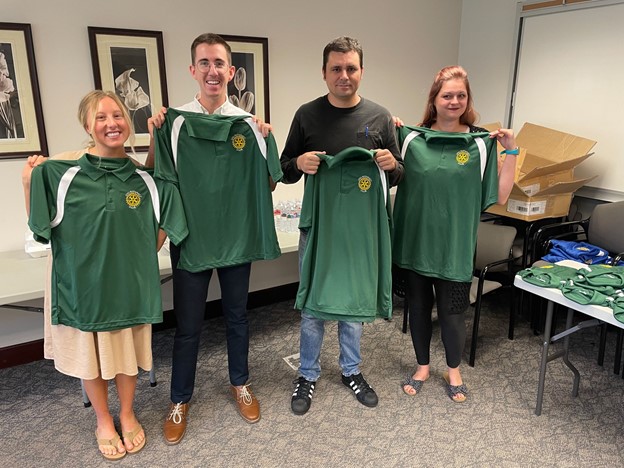 (L to R) Kirra Pulsipher, Dylan Tweed, Andrew Caldwell, Alitha Thompson
I left the meeting with a new conviction in a few fundamental beliefs.
1) We are all in this world together, trying our best to make it better. We need to respect each other; speak and act to build goodwill and friendships.
2) Service is always something to prioritize. Service isn't something you do when it is convenient or when you get something out of it. Instead, you should take every opportunity to enhance someone else's life. By putting others above yourself, you create a world of peace instead of hatred. 
3) I am so grateful to be studying Global Politics at Utah Valley University (UVU) and to be a part of the UVU Rotaractors. I want to be able to serve and help make our world a place where everyone has the chance to feel that same empowerment I felt today. I feel that my degree and the Orem Rotary club will help me make this a reality. 
         Alitha Thompson, President, Foreign Affairs club and UVU Rotaractor 
                                                                                                                    ***
                                               21-06-30-Dylan Tweed-Orem Rotary President and UVU Rotaract President Installation