Earth Day Service Project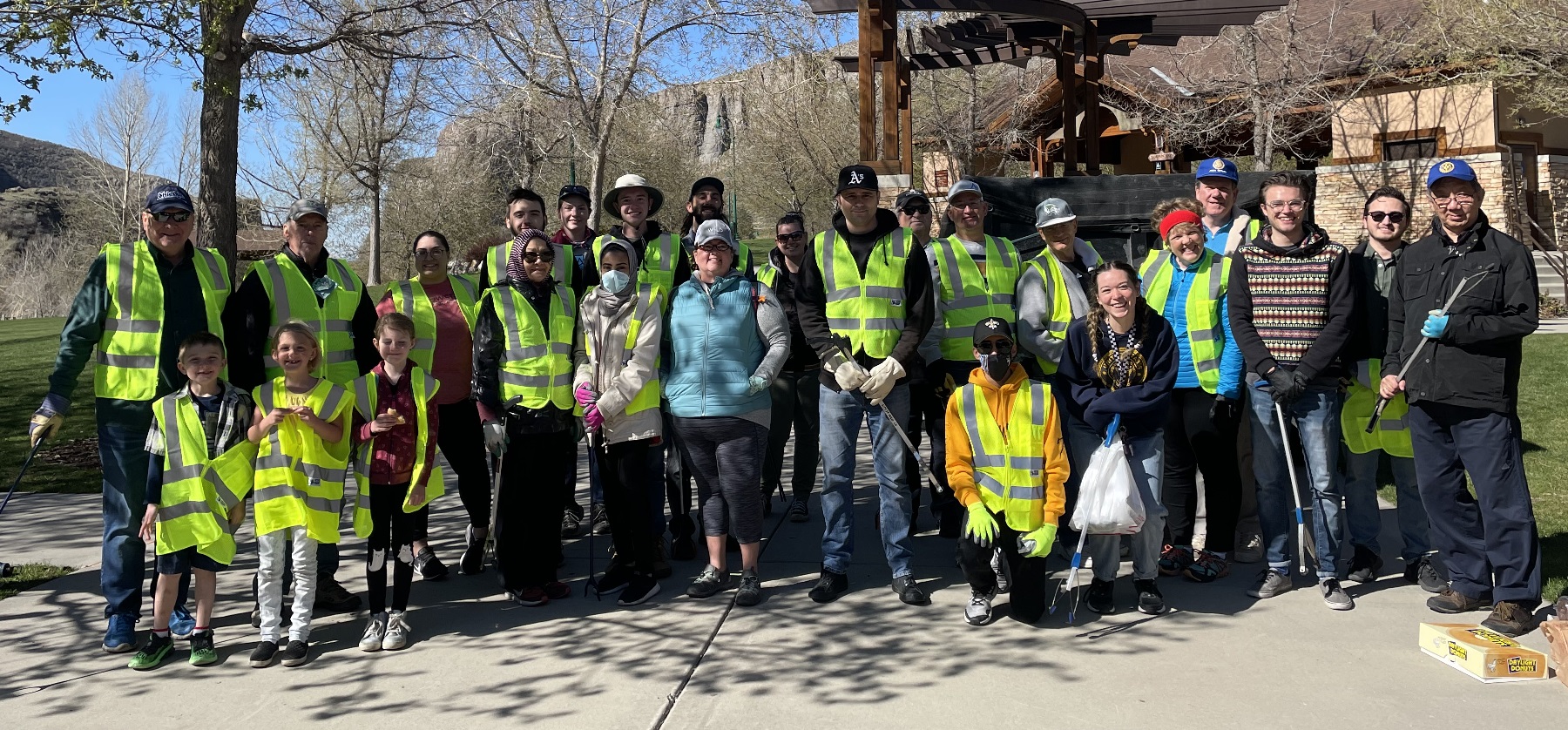 Members of Utah International Mountain Forum, a coalition of student clubs at UVU contributed to the service project hosted by Orem Rotary members.
On Saturday, April 17, 2021, students helped to plant shrubs at Mt. Timpanogos Park and to remove trash from the surrounding mountain area
                                                                            STUDENT REFLECTIVE ESSAYS
                                     Yana Andersen UVU Rotaract Partners with Orem Rotary For Earth Day Service Project
                                            Dallas Karren UIMF Commemorates Earth Day Through Community Service
                                          Andrew Caldwelll - My contribution to the service project at Timpanogos Park
                             Albeny Singh UVU's Rotaract Club Partners with Orem Rotary and UIMF to Honor Earth Day
                                          ***
           Round Table: TAKING ACTION – SDG #15 Life on Land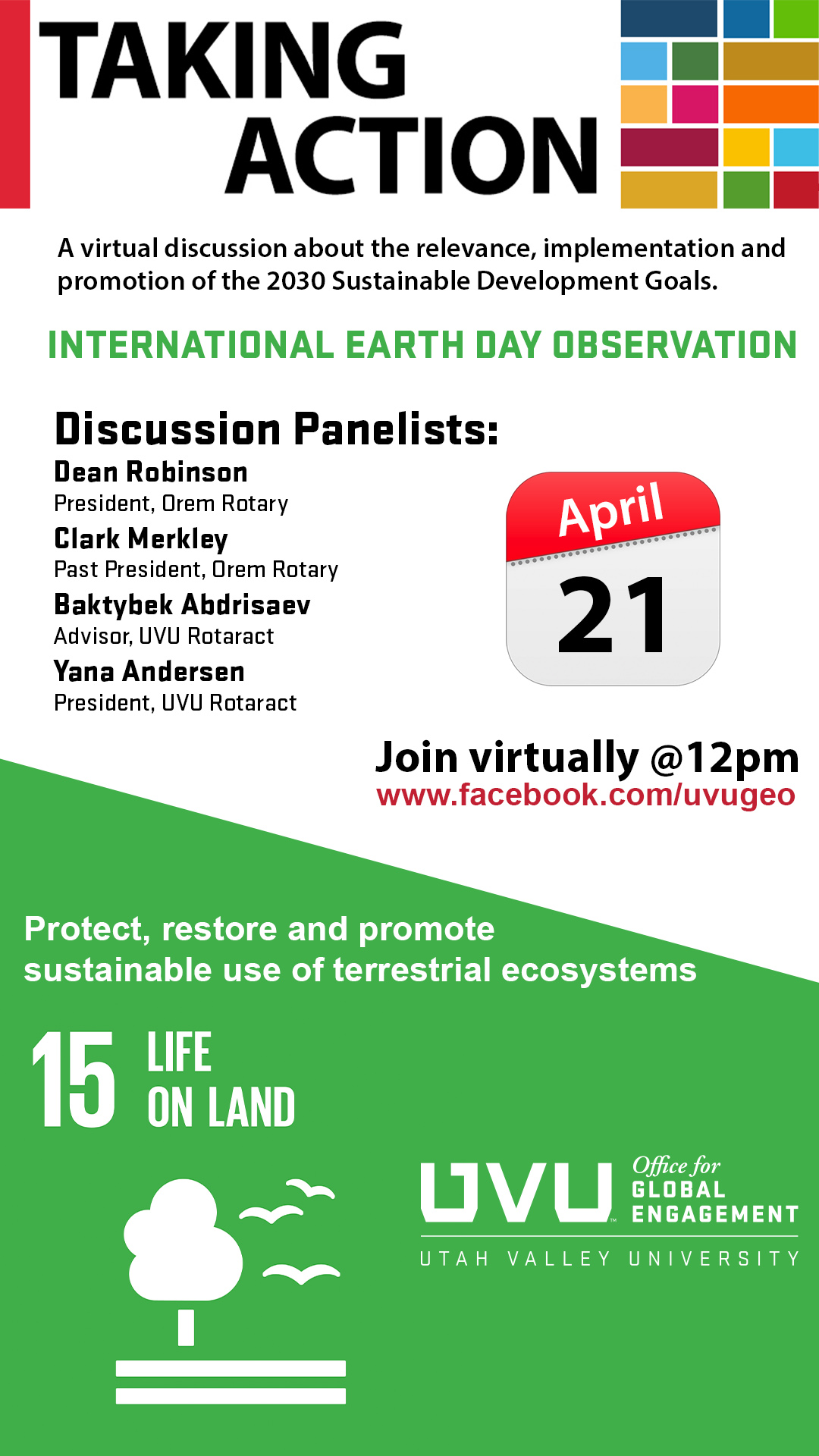 Yana Andersen Representing UVU Rotaract at a "Taking Action" Global Dialogue Event
                                                         Mark Driggs - Taking Action SDG15: Life on Land Event 
                                         ***
                             Atlas Award for UIMF President and Orem Rotary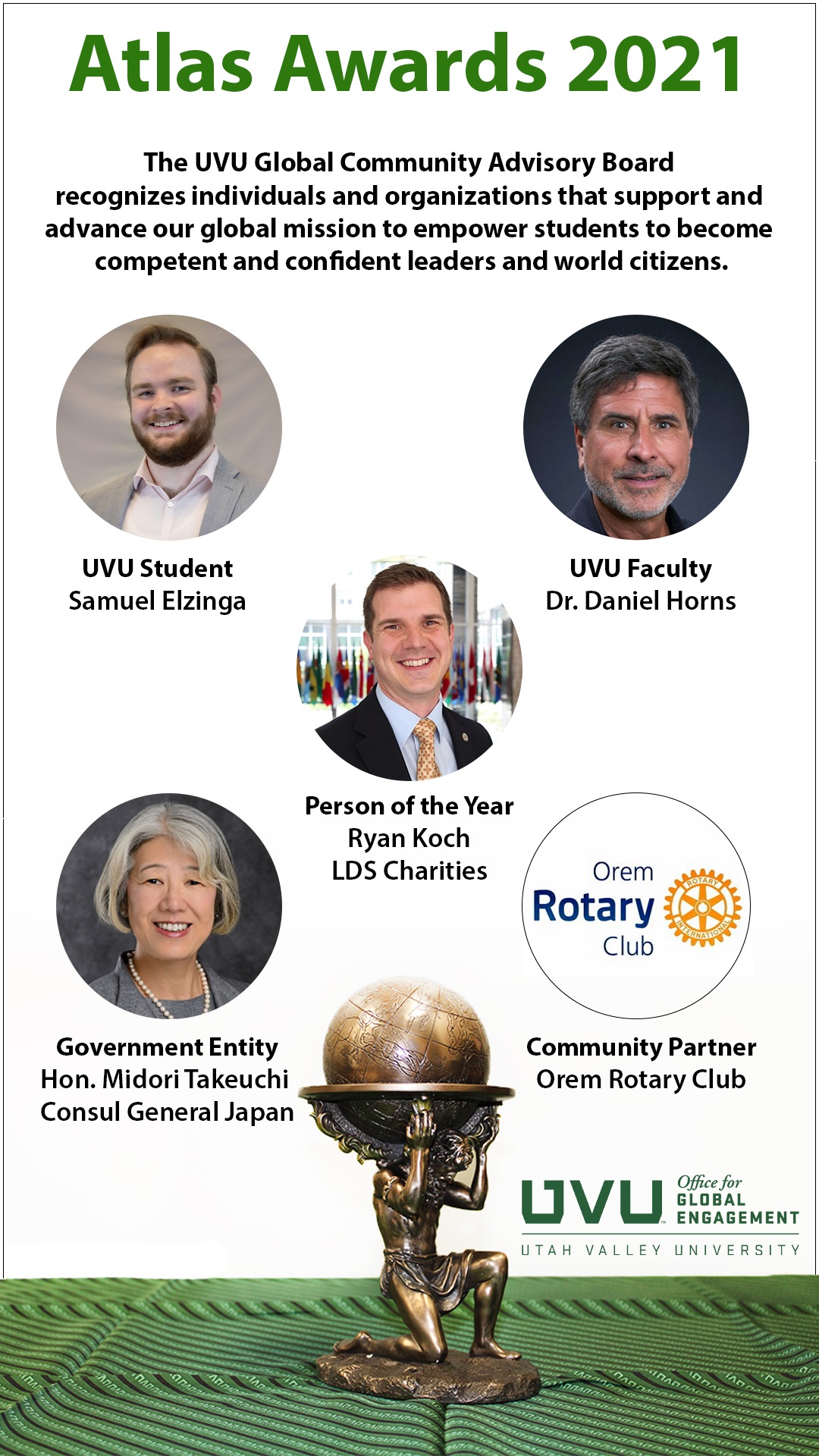 Dean Robinson, President of Orem Rotary, received on behalf of the Orem Rotary the Atlas Award during a special reception and ceremony hosted by the UVU Office for Global Engagement on April 22, 2021. The Atlas Award is presented annually by the decision of the UVU Global Community Advisory Board in recognition of individuals and organizations that support and advance their global mission to empower students to become competent and confident leaders and world citizens. Orem Rotary was recognized in the "Community partner" category for support to the efforts of Rotaractors to advocate for sustainable mountain development, women and communities during the 63rd, 64th and 65th sessions of the Commission on the Status of Women at the United Nations headquarters in New York City and the 68th United Nations Civil Society Conference in Salt Lake City, UT during 26-228 August 2019. 
Samuel Elzinga, President of UIMF, received the Atlas Award in the "UVU student" category. Dr. Daniel Horns, Dean of the UVU College of Sciences received the Atlas Award as the best among "UVU faculty." Ryan Koch, Executive Director of LDS Charities, was recognized as a recipient of the Atlas Award as the "Person of the Year," and the Honorable Ms. Midori Takeuchi, Consul General of Japan in Denver, CO received the Atlas Award in the "Government Entity" category.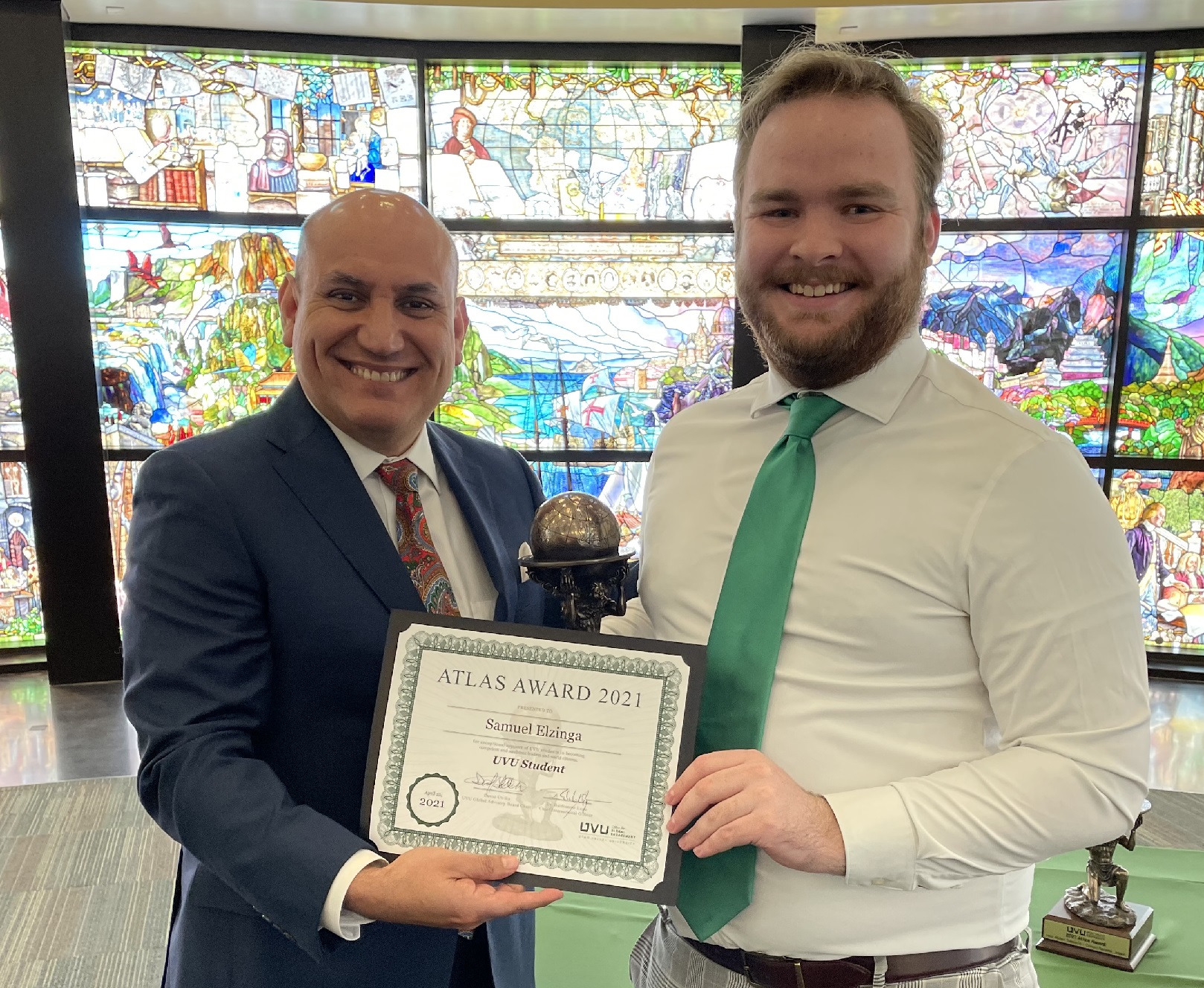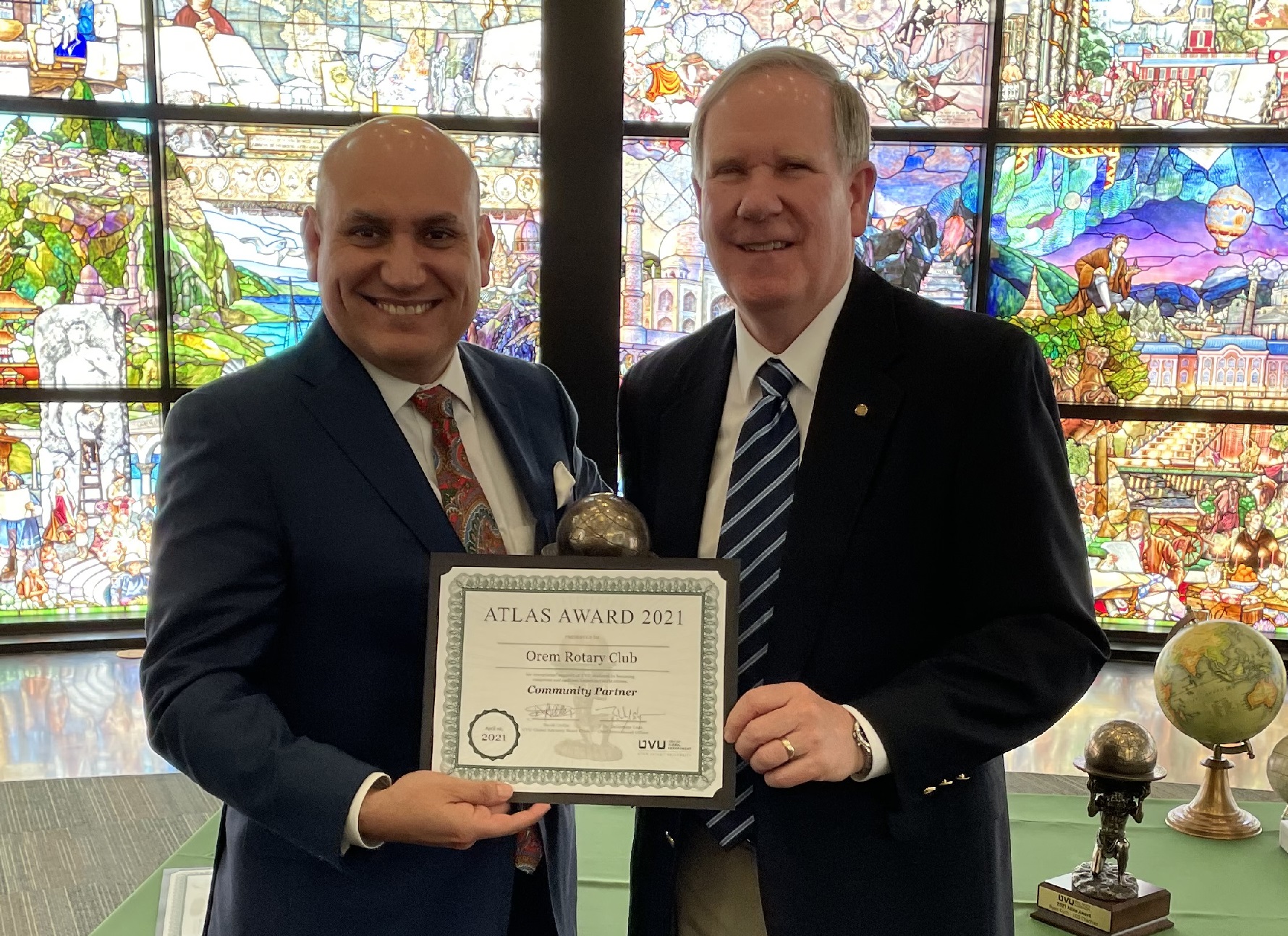 Samuel Elzinga (right) as a recipient of the UVU student Atlas Award    Dean Robinson (right) recieves the UVU Atlas Award for community partner 
                                                                                         STUDENT REFLECTIVE ESSAYS
                                                                    Sam Elzinga My Time at Utah Valley University: A Retrospective